Kazoku - Educational Manga Card Game
This card game helps you learn Japanese characters, hiragana and katakana, while playing cards. Each card presents a kana, a word using this kana and a manga style drawing illustrating the word.
From: japanophone
---
Stock: In stock.
---
EUR 12.99
Kazoku is an educational card game developped by Japanophone. With Kazoku, learning kanas while playing iseasy, quick and fun!
You can play with Kazoku several ways, mainly with the Happy Families and the Happy Kanas games.
Happy Families may be more appropriate to young players, while Happy Kanas will please players who are more advanced or motivated in their learning of the Japanese characters.
You'll find variations of these rules as well. See » the rules.
Composition of the card game
56 cards in total:
45 game cards, spread in 9 families of 5 members, each illustrating a kana and a word using this kana.
4 joker cards, usefull for the Hyppy Kanas game.
Rule cards.
2 cards with a summary table, of the hiragana and the katakana.
1 vocabulary card.
Members of each families are: Father, Mother, Son, Daughter and Animal. (Members call also be called by their numbers so that the youngest may play more easily.)
Families
Tradition
Sport
City
School
Cooking
Art
Country side
Mystery
Home
Illustrations
Based on the graphical univers of manga, all the illustrations are made by a professional Japanese mangaka, men and women, working in Japan for most of them.
Each artist has been choosen for their style so that they give their personal style to the family they're in charge.
Layout of a card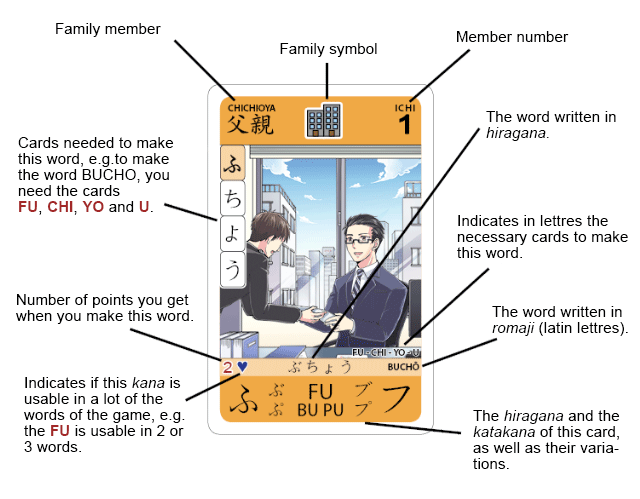 | | |
| --- | --- |
| Dimension | 90mm x 58mm x 20mm |
| Weight | 99g |
| Number of cards | 56 |